Our Instruments and Equipment

The Rhythm Section

Scott "Papa Doc" Collier plays LP bongos, congas and assorted percussion instruments. Scott is our choreographer and motivational leader.


Mark Friedrich plays both bass and keyboards. Mark is the best key bass player around. He plays a Roland keygoard with either a Korg or Alesis sound module. His amplifier of choice is a Crate K-150 from the former St. Louis Music with separate channel sends for bass and keyboards to the sound system.


Dave Fowler plays a Gibson 1987 ES-335 or Fender Telecaster guitar with WC&S. He also uses a Fender Stratocaster or Telecaster with The Charlie B Group. Pedals include a Boss ME-50, Barber overdrive, and a Cry Baby wah. His amplifier is a Fender Junior Blues.


Joe "The King" Weber currently plays a new set of white pearl finish Ludwig drums with Sabian cymbals. Joe has great time, plays any style, and has a special flair for driving a big band.
The Horn Section

Jim Manley plays the V-Raptor trumpet with Bob Reeves mouthpieces. Jim, one of the foremost authorities on breathing techniques, is always being cornered by some of the best trumpet players for pointers.


Larry Johnson plays Selmar tenor and alto saxes. Larry's sound is huge. It is a sound other players would die for.


Mark Garcia plays both trumpet and flugelhorn. Mark is a tasty soloist with a smooth relaxed sound.


Jim "Big Slide" Owens plays trombone with WC&S and trombone/keyboards with The Charlie B Group. Jim is a great section player and soloist. His considerable keyboard talents are an added plus.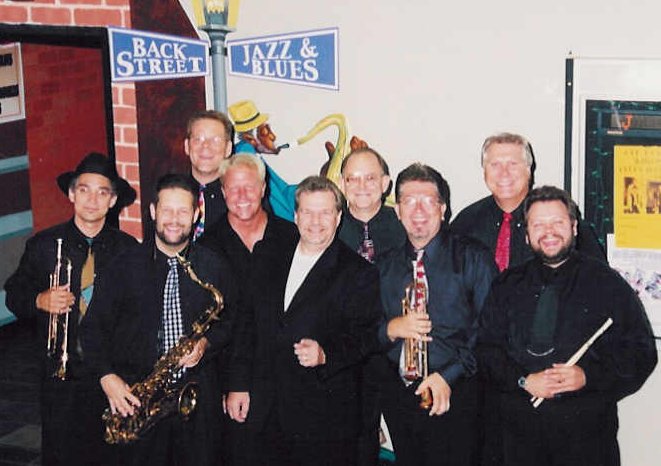 <!img src='/images/wcsorch.gif' border=0 width=300 height=197>
Marc, Larry, Jim, Scott, Charlie, Mark, Manley, Dave, Joe